MTK-1
Four-axis Hanging Joystick Oil Hydraulic Micromanipulator
The optimal manipulator specifically made for handling suspension cells!
Once having been set, the innovative fan-shaped driver never fails to return to where the pipette tip is supposed to be. The newly installed lever allows a pipette to move along its axis by using traditional and smooth oil hydraulic joystick. This manipulator will spare the laborious work of a pipette alignment with the optical axis, providing more time for objective operation.
* This product is sold in the set of both handed manipulators and a dedicated adaptor.
Setup Example
Takenome can be fitted to multiple different manufacturers microscopes, please see below)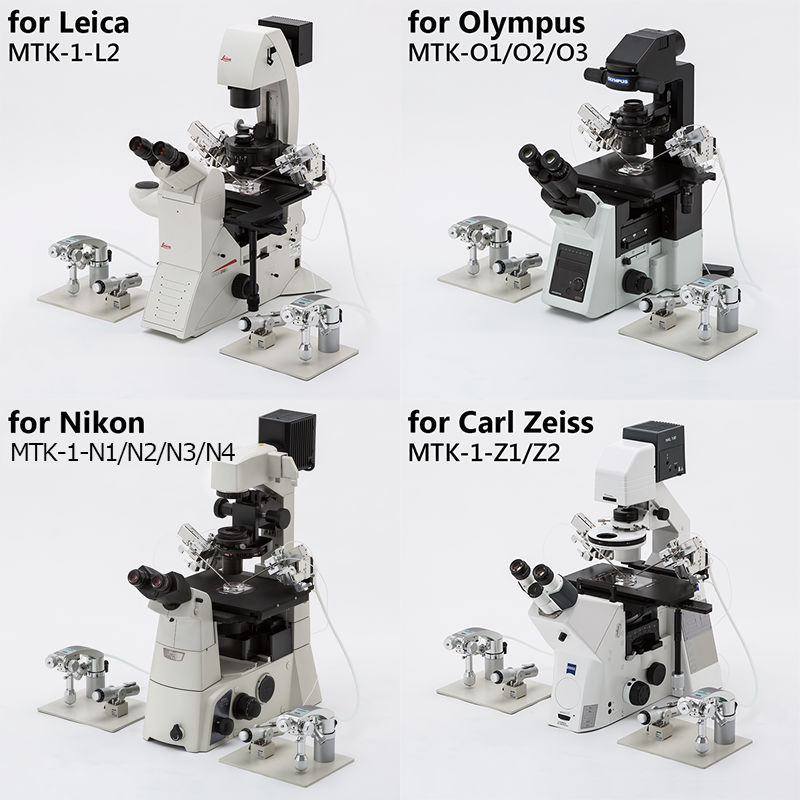 Easy attachment of a pipette
The injection holder is provided with an anchor (special clasp) that fits in the driver body, which enables a distance from a pipette tip to the anchor to be in a length. This function can be used for memorizing a regular position so that time for a pipette exchange will reduce and repeated pipette location is precise and stable.
Pipette angle adjustment centred at the tip to stay in view
The pipette tip is designed for staying at the optical axis against any angles. So angle adjustment is hard to miss the tip in the field of view.

Simple and reliable motion from Home to Working position
50mm retracting margin enables easy exchange of a pipette. Breakage of pipettes is greatly reduced during the replacement.
Microscope compatibility table
A dedicated adaptor for each microscope has been developed. It needs no adjustment for mounting so that it can be installed at best position without fail. Find an appropriate adaptor in the following table.
Supplier

Microscope
Model
Olympus
IX70

MTK-1-O1

MTK1-1VM-O1

IX71

MTK-1-O2

MTK-1VM-O2

IX73, IX83

MTK-1-O3

MTK-1VM-O3

Nikon
ECLIPSE TE2000

MTK-1-N1

MTK-1VM-N1

ECLIPSE Ti

MTK-1-N2

MTK-1VM-N2

ECLIPSE Ts2R

MTK-1-N3

MTK-1VM-N3

ECLIPSE Ti2

MTK-1-N4

MTK-1VM-N4

Carl Zeiss
Axiovert 200, Axio Observer 3/5/7

MTK-1-Z1

MTK-1VM-Z1

Axio Vert.A1

MTK-1-Z2

MTK-1VM-Z2

Leica
DMi8

MTK-1-L2

MTK-1VM-L2
*VM version is the IVDD approved product range and not currently for sale in the UK.
Specification
Accessories included
Dedicated Mounting Adaptor
IP Iron Plate × 2 units
Positioning Gauge
Anchor × 2 units
Hex Wrench
Pipette Scale × 2 sheets
Movement range
 X/Y/Z-axis   
Oil hydraulic control 10mm
Full rotation of knob 250µm
Minimum graduation 5µm    
T-axis
(for holder)
Oil hydraulic control 10mm
Full rotation of knob 1,000µm
Minimum graduation 20µm  
Dimensions/Weight
 Control unit
W85.6 × D225 ~ 235 × H151 ~ 171mm, Approx. 1.9kg 
Drive unit
W108 ~ 138 × D145 ~ 155 × H100 ~ 150mm, Approx. 820g
Hydraulic tube length
0.6m