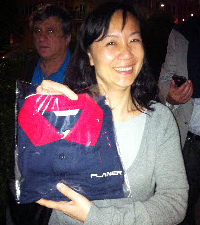 It was a tight squeeze when sixty of our closest friends helped us take over a restaurant in Stockholm this summer.
The occasion was our popular Distributor Meeting which took place at the same time as the ESHRE fertility congress in Stockholm in July, 2011.
This Distributor Meeting is principally aimed at our European distributors but whether it was the company, the food or the free polo shirts, we ended up welcoming people from as far away as China, Thailand South Africa and the USA!
ESHRE, the European Society of Human Reproduction and Embryology grew out of suggestions from Professors Edwards, Cohen and others in the early 1980s. Now the meeting is held in a different country each year - this year it was Sweden and next year it's in Turkey.
The Distributor's dinner was held in the Chakula restaurant which offered unique South African food (yes, South African, in Sweden!). We wanted to avoid the ever popular but rather traditional Swedish Meatballs! We have a photo of most of the attendees receiving their new Planer t-shirt - fully clothed!